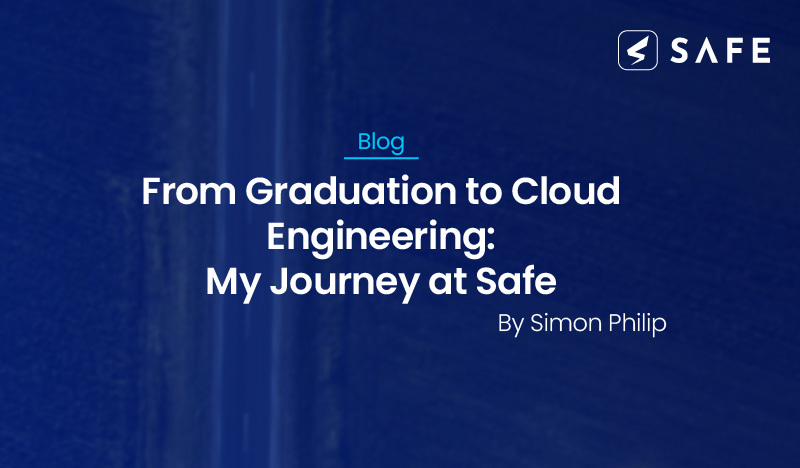 No day is the same as a Cloud Operations Engineer. Every day is an opportunity to learn – whilst working with an exciting platform alongside incredible people - making it a rewarding experience.
This is my story of how I started as a graduate – fresh out of college – and became part of the Safe Security team.
From education to employment
My journey began two years ago when I was fresh out of college following my degree in Computer Science. A Safe employee recommended that I check out the vacancies and referred me to Safe's Talent team. Given all of the good things I'd heard about Safe, I was excited to be given the opportunity to interview. The process was seamless. First, someone from the Talent team called me to introduce themselves and the company and learn more about me. We discussed the role in consideration, and they booked me in for the first round of interviews. The first two interviews were technical and skills-focused, followed by the final round, which was a conversation with the CEO, Saket Modi. Shortly after, the recruiter said I was successful and thought I'd be a great fit for the role! I was ecstatic and so excited about what was to come.
Becoming an engineer
My incubation period was challenging, but filled with learning and fun. I joined the Customer Engineering team where "I," representing me, became "We," representing the entire team. Here in this team, we handled bugs reported by our clients and issues detected by our engineering teams. We also performed weekly stack and application upgrades for clients, and it was thrilling to know our work's impact. This team enabled me to grasp SAFE as a product as I embarked on learning and working on many new technologies. I was introduced to Amazon Web Services (AWS), which seemed very interesting, and my team encouraged me to take the AWS certification. I did the certification, and passed! This was a huge turning point. The certification gave me and others a sense of validation that I was ready to handle cloud-related work.
Not long after, there was a requirement to form a brand new team to handle cloud deployments and operations-related work. Our team was chosen for the task, and we became the Cloud Operations team. We all had the chance to work with people of exceptional knowledge and caliber from different parts of the world. This was a huge learning experience for us, and we honed essential skills that exponentially improved our career prospects.
My Life at Safe
Fast forward to 2023, I have been working at Safe as a Cloud Operations Engineer for around two years. I never imagined, back then, as a graduate, that I would feel such great satisfaction working for a company or that I would be working alongside such an amazing group of talented people. There are always opportunities to learn new technologies, embark on different projects, and develop myself as an individual. My work-life balance is unrivaled compared to many others at a similar stage of their careers, and I am incredibly proud to call myself a SafeStar.